Posted on
July 26th, 2008
by tdksucks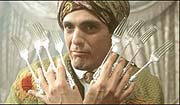 The original bat suit can't protect him against dog bites?  What?  Wait, it can withstand bullets, but it can't protect against dog bites.  The new one is easier to move in and protects him better from dog bites (maybe, this was never clarified), but no longer even partially protects him from bullets.  He's one of the richest men in the country, he can coordinate huge government contracts which somehow allow him to appropriate the signals of 30 million cell phones in Gotham city (nevermind that the sonar thing is totally and completely unrealistic), but apparently he can't afford a decent bat suit that BOTH let's him turn his head AND protects his body the same as the first one.
So one would think that given this degradation of bat suit quality, there's a prime opportunity in the movie for the addition of cool new gadgets.  Ya know – to make up for the stupidity.  What we get is: some sharp stuff that shoots out of his gloves.  Wow, cool.  Sharp things that fly out of the forearms of his gloves.  And the Bat Pod (motorbike) which lasted all of a single segment before getting trashed because, although he could control it enough to do a 180 against a wall, he can't keep from crashing it when trying to avoid smashing into The Joker.
I almost forgot – we also got the amazing new addition of a short-lived hydraulic glove which allows him to bend steel… only in the first minutes of the movie.
So in anticipation of Batman 3 (or is it 6?), here are some thoughts for new gadgets and costume ideas:
Taser guns, so he can keep The Joker from getting close enough to beat him nearly bare-handed when endless ninjas can't
Mace, so when The Joker or a small child with an attitude does manage to get too close he can distract them long enough to run like a bat out of hell
A stick, so he can hit people and inflict actual damage – like causing blood to come out of their face (apparently as the interrogation room scene shows us, his fists can't make blood come out of The Joker's face even when he punches him dead-on and hard multiple times)
A piece of steak so he can distract ravenous puppies
A muzzle – not for puppies but for himself so that nobody has to listen to his rock-gargling voice as batman
I know it's a lot of expensive-sounding gadgetry, especially for a billionaire, but we've got to suspend SOME disbelief, OK?
Filed under: Makeup/Custume, Story/Plot Problems, Writing/Direction Tags: bat pod, batman, batpod, blue raja, forks, gadget, gadgets, the blue raja