Posted on
July 27th, 2008
by tdksucks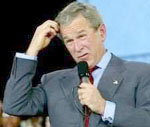 There's a notion when watching/reading fictional movies/stories, and it's called "suspension of disbelief".  Most contemporary movies, even if they are based within reality, require the audience to maintain at least SOME suspension of disbelief.  Suspension of disbelief is [from Wikipedia] "the willingness of a person to accept as true the premises of a work of fiction, even if they are fantastic or impossible".
Yes, "The Dark Knight" is a piece of fiction.  It is a piece of fantasy, based on a comic book.  However, the clear premise of the rebooted Batman series, and the clear goals of Chris Nolan, the director, is to ground the fiction in reality.  Nolan goes to great effort to place the world of Batman into the real world, including: the locations, the characters, the story dynamics, and the plausibility of the elements of the story and plot.  That is the obvious goal. Especially in "The Dark Knight", extending from the basis of "Batman Begins", there is a persistent focus on keeping things realistic and not idealistic.  TDK is an attempt at taking something sourced from fantasy and placing it into reality, and also removing any semblance of idealism.
That's all find and good – it's an interesting goal and "Batman Begins" pulled it off quite well.  Watching BB, the audience can truly believe the various aspects of the story.  The main problem with TDK is that it fails miserably in that regard.  There are numerous scenes and situations that are completely not plausible at all, and the audience is expected to have a greater suspension of disbelief than what is implied throughout.  It steals from the audience the very thing that is meant to prop the value of the movie up in the first place.  The movie contradicts itself, it cheats itself, and the audience.  To compensate, what the audience is given is a lot of explosions and sadistic scenes, and the masses appear to have bought into it.
Filed under: Editing/Sound, Makeup/Custume, Story/Plot Problems, Subpar Acting, Visuals/Effects, Writing/Direction Tags: believability, Chris Nolan, fiction, plausible, realism, reality, suspension of disbelief