Posted on
July 25th, 2008
by tdksucks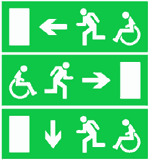 Let's look a little closer at yet another aspect of Nolan's "ultra-real" superhero movie:
The time period of the hospital evacuation segment is implied as being enough time to evacuate an entire hospital.  The initial moments of The Joker's threat hitting the airwaves, Gordon is heard shouting to various police crew to evacuate Gotham General Hospital as the priority (and it happens to be the one The Joker picked).  Regardless, it's implied that the whole ruckus about the hospital happened in less than 30 minutes since the Reese guy was about to go on a TV show to expose who Batman is (seems to imply a show teaser at the beginning of a 30 or 60 minute "news" show hosted by Gary Wallace from Weird Science).  So, it's IMPLIED as being enough time by the dialogue of the movie but in reality it would take HOURS, if not an entire day, to completely evacuate an entire hospital.  If it was the case that there was such an evacuation ahead of time, and it was evacuated before The Joker went to Dent's room, why was Dent not evacuated?
Why would Dent be the sole patient left (contrary to Gordon wanting desperately to keep Dent safe throughout the story)?  The implication, then, is that the hospital is being evacuated at the same time The Joker shows up to Dent's room.  The entire exchange between The Joker and Dent took place over 2-3 minutes and when The Joker walks out of the hospital it appears to be fully evacuated.
An entire major city hospital evacuated in 3 minutes.
The realness of this movie is astounding.  Not to mention how much the building actually looked like a hospital from the outside rather than an abandoned building in the middle of an industrial zone.
Filed under: Story/Plot Problems, Writing/Direction Tags: evacuation, Gary Wallace, gotham, hospital, Nolan, The Joker, Weird Science