Posted on
July 23rd, 2008
by tdksucks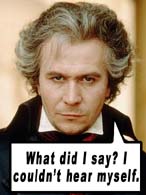 At times when Lieutenant Gordon, played by Gary Oldman, was talking, he could barely be heard due to being drowned out by the music score.  Music in movies at times can be great, especially when it enhances the story-telling and helps drive an emotion home.  There are instances in TDK where the score is so overwhelming as to actually make it hard to understand what Gordon is saying.
Some moments in the movie, the score worked great, in others it distracted.  The disjointed execution of the music scoring was mediocre, which is easy enough to ignore when trying to enjoy a movie, but there were moments that it was simply done so wrong as to be distracting.
Maybe sub-titling could have helped.
Filed under: Editing/Sound Tags: batman, batman begins, Chris Nolan, Christopher Nolan, Gary Oldman, James Gordon, Lieutenant Gordon, music score, the dark knight