Posted on
July 29th, 2008
by tdksucks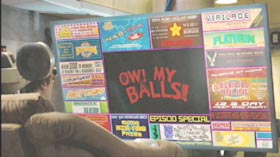 I would bet that most people who've seen "Idiocracy" (2006) and loved it, are probably not in the crowd who believes "The Dark Knight" is "OMGZ the best movie ever!"  If you haven't seen Idiocracy, check it out – it's building up a cult following and for a reason: It's a biting satire of what the future holds for society and is at times absolutely hilarious, and sometimes discomforting – primarily during the moments it rings true.
The general premise of the movie is that an average man from 2005 who's put in deep freeze in a U.S. Army experiment is forgotten about — then gets revived 500 years later.  The world he re-enters is a future that predicts what would happen if present-day society (whose culture is becoming more and more fixated on corporate brands, celebrity, sex, money, and superficial trivializations) is taken to it's most extreme.  It's by no means a Shakespearean effort, but the many moments of comedic commentary are truly brilliant.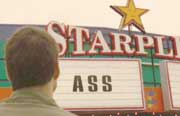 The people of the future are so stupid that the lead character effectively becomes the smartest man alive. If you don't mind spoilers, a full description is at Wikipedia.  For anyone who hasn't seen the movie, this article might not make complete sense, but at least the general point will probably still be clear.
"The Dark Knight" marketing in many ways was pretty effective at what it intended to do: Indoctrinate the masses into believing that the movie would be amazing by immersing them into it before it premiered.  A large number of viral websites were launched that gave peeks into the background of the movie's storyline.  Further, the actor playing the role of the lead villain passed away tragically 2 months after production was completed and his death became a pseudo-marketing vehicle in and of itself. People who otherwise would not have had an interest in seeing the movie in a theater were now fixated on it.  When the movie finally premiered, the conditioning that all the marketing and hype induced caused the vast majority of people who saw it to believe it truly was an amazing movie and not just a mediocre run-of-the-mill action movie.  So many people invested themselves in the belief that it would be amazing, that dissonance kicked in and caused them to believe it was, even though it wasn't – because to believe otherwise would mean that they would have to contradict their own consistency.
In the future presented in "Idiocracy", one of the running gags is there's a drink called "Brawndo: The Thirst Mutilator" and apparently the company that markets it, Brawndo Corporation, apparently buys up so many government agencies that it can go unhindered when marketing (and institutionalizing) Brawndo for everything imaginable, including crop irrigation, and water is only used in toilets.  The tagline for the drink is that "it's rich in electrolytes", although nobody knows what that means, everyone accepts it because "it's what people crave".  Why is it used to irrigate crops?  "Because it's what plants crave."  Which of course results in massive crop issues, and nobody knows why, because everyone is too stupid to figure it out.
Also in the future, the most popular movie is called "Ass" and it's entirely just a movie of someone's ass (just doing nothing, occasionally farting, etc).  The most popular TV show is "Ow My Balls" which is about (and only about) a guy who constantly gets his balls smashed, banged, hit, whacked, etc and yells "ow my balls".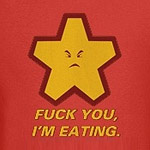 The mass of people who proclaim "The Dark Knight" remind me of the sad citizens of this future.  They don't know why they think TDK is "awesome", they just know it is, because everyone else thinks it is.  "Because it's got electrolytes."  The hoopla over TDK is a hint at what's happening in society now.  For example, the Internet's existence, instead of helping people get smarter (by making access to information easier) is just causing them to become dumber.  Just look at any random MySpace page or peruse the kind of moronic questions people ask on "Yahoo! Answers".  Take a look at the current US President – is he a representative of the people?
The sad thing is, I'm pretty sure that only a small number of people visiting this site or reading this will ever comprehend the irony of what's happening in society, and the majority of others are just reading this and thinking "you fag!" and will never know exactly how far into the depths of "Idiocracy" the world is actually spinning.  That's because for those who the movie makes fun of, they will never actually comprehend that it's a parody of them and a satire of where society is going because of their consumerist behavior.  If that's you, then you probably found this article hard to follow, difficult to understand, and one of the few things running through your mind is "what a fag".  If so, go back to 'batin.
Filed under: Entertainment, Uncategorized Tags: balls, Brawndo, celebrity, comedy, corporate brands, cult, electrolytes, Entertainment, future, idiocracy, ow my balls, society, stupid, TDK, the dark knight