Posted on
July 20th, 2008
by tdksucks
Tim Burton's Gotham from his first Batman movie was epic.  None too realistic, but so immersing and cinematic that it filled the role. It was literally one of the characters.  I recall some commentary about how the set design was planned and one of the designers stated, I believe, that they considered what New York City would look like if it didn't have any zoning laws.  Buildings could go straight up without tapering inward and even jut out while built upward, and the result would be Gothic and dark.  Gotham, in fact, was an old and long-time journalistic nickname for New York.
In "Batman Begins", more of an above-ground real feel was given to Gotham, but still visually well-crafted enough for an audience to feel teleported to a city where a man such as Batman would be needed and could thrive.  A place where an Arkham Asylum could be found.  A place where grimy streets could exists, mixed with the modern landscape of skyscrapers.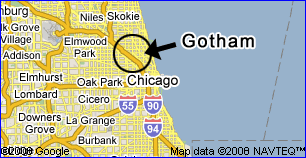 What we got in "The Dark Knight" was (literally) a sunny bright Chicago, and at night a glitzy glass and metallic city of commerce.  The city did not feel like Gotham.. AT ALL.  It had absolutely no character and looked like every other metropolitan city in the US.  Take the costumes and makeup (and burned faces) and gadgets away from the 3 main characters and you have the movie "Heat".  I didn't want to see "Heat: The Lost Batman Chapter".  If I did, I'd want to see Al Pacino in a cape and Robert DiNero doing a trick where he makes a pencil disappear into Val Kilmer's head.  But it's not supposed to be "Heat".  It's supposed to be a BATMAN movie.  As in, a movie based on a comic book character.
Filed under: Writing/Direction Tags: chicago, gotham, gotham city